Saham Group*, a diversified insurance leader in Africa
Saham Group is a diversified, pan-African group with two historical businesses: insurance and customer relationship centers. It is also expanding in real estate, healthcare and education so as to take advantage of synergies with its activities. Saham offers an attractive opportunity to access African growth. It operates in 23 African countries, which already represent nearly 50% of the continent's GDP.
* Company in the process of being sold. The sale of Wendel's stake is subject to the closing of the transaction between Saham Group and Sanlam, which should be completed in the second half of 2018. For more information, read the press release published on March 8, 2018.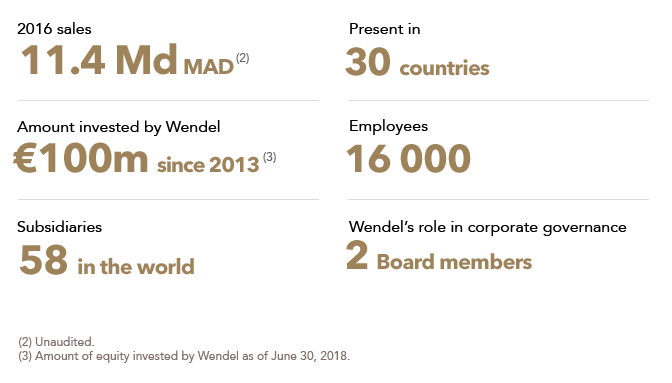 Why did we invest in Saham Group?
On November 28, 2013, Wendel made its second investment in Africa, becoming a shareholder of the Saham Group, based in Morocco and majority-held by its founder and CEO. Wendel intends to support this pan-African group in its future, long-term growth and development. Moulay Hafid Elalamy is a Moroccan entrepreneur who enjoys a very strong reputation in Africa. Since 1995 he has successfully built a multiservices group operating in insurance, customer relationship centers, healthcare, education and real estate. Saham Group leverages the broad sectoral and geographic diversification of its activities and its highly experienced management. Moulay Hafid Elalamy has been Morocco's Minister of Industry, Investment, and the Digital Economy since 2013. He was reappointed in this role in April 2017.
Insurance. The insurance market in Africa is developing rapidly, driven in particular by population growth, a fast-rising standard of living and regulatory changes that are likely to further increase demand. Insurance penetration continues to be very low (0.5% to 3.2%) in Sub-Saharan Africa compared to average global rates (7-8%), and since 2007 the insurance market (based on premiums) has been growing about 8% a year on average. 
Saham Finances is the largest insurer in Africa (excluding South Africa). The group is present principally in non-life insurance in 20 African and Middle Eastern countries, via 44 insurance and reinsurance companies.
Assistance. Saham Assistance is the leading provider of assistance in Morocco. It is specialized in travel, vehicle and health assistance. Saham Assistance has a wide distribution network, backed by 600 intervention spots across Morocco, more than 400,000 service providers in addition to 240 correspondents through the network of Mondial Assistance Group worldwide.
Healthcare. Meden Healthcare, the group's healthcare division, develops modern, high-performance medical units in accordance with international standards, primarily in Morocco. To achieve this, the group draws on the strategic partnership formed in 2013 with the cooperative Asisa, the Spanish leader in medical management. The healthcare division is developing a network of clinics under the Evya brand offering multidisciplinary expertise, state-of-the-art technical facilities, and high-quality service.
Customer relationship centers. Saham Group was a pioneer in the market for customer relationship centers, with the creation of Phone Group in Morocco in 1999 (40% held by Saham Group, alongside Bertelsmann). Phone Group is today a key player in outsourced client relations for French-speaking Africa. In March 2015, Saham purchased the Egyptian operator ECCO Outsourcing, one of the leaders in North Africa and the Middle East for customer relations centers and Business Process Outsourcing (BPO). The acquisition of the operator ECCO allows Saham to offer a high performance offshore platform to clients in Arabic and English speaking markets, particularly in the Middle East, Europe, and the United States.
Real estate. Leveraging its experience in insurance, Saham Group manages residential and social real estate development projects in Morocco.
Education. In 2015, a division dedicated to education, SANA Education, was created through a 60/40 joint venture between Saham Group and Tana Africa Capital (co-founded by Oppenheimer and Temasek). Sana Education intends to establish a network of high-quality, primarily new schools in Morocco, and then elsewhere in Africa, ranging from preschool to high school and rooted in local cultures. 
Highlights of 2016
The Saham Group's consolidated 2016 sales totaled MAD 11.4 billion, up 6% compared with 2015.
Insurance activities posted total growth of 7% over the year, thanks to robust organic growth of 6% as well as the contribution from Continental Re in Nigeria (acquired in June 2015). All insurance entities except Saham Angola Seguros, Gabon, and Congo saw increases in gross premiums during the year, with sound organic growth of 15% in Morocco, in particular (ca. 41% of gross premiums). Saham Angola Seguros (ca. 9% of gross premiums) posted a 26% constant-currency decline in gross premiums written compared with 2015, in a very difficult macroeconomic context.
Customer relationship centers continued to perform well, with revenue growing 25% in 2016, owing in particular to significant new business wins at Phone Group in Morocco, Côte d'Ivoire and Senegal, as well as to fast growth at Ecco (acquired in March 2015) in Egypt.
Saham Group is also pursuing the growth and development of its Healthcare, Education and Real Estate businesses, with priority on Morocco. SANA Education (a joint venture between Saham and Tana Capital) operated three schools in Rabat and Casablanca in 2016. In addition, Saham continued to market its residential real-estate projects in Casablanca.
On December 14, 2016, Sanlam, a leading South African insurer, announced its intention to increase its stake in Saham Finances (the Saham Group's insurance arm) by 16.6% for $329 million. Once the transaction is complete, Sanlam will hold 46.6% of the share capital of Saham Finances.
Wendel sells its participation in Saham Group 
On March 8th, 2018, Wendel announced the disposal of its stake in Saham Group's holding for $155 million (c. €125 million). The transaction is concomitant with an agreement signed on March 7th, 2018 whereby Saham Group sells its insurance division (Saham Finances) to Sanlam, a leading South African financial services group in the African continent. Sanlam has been a shareholder in Saham Finances for the past three years and has held until recently 46.6% of the capital. The sale of Wendel's stake is subject to the closing of the transaction between Saham Group and Sanlam, which should be completed in the second half of 2018. 
"We share the same values as Wendel."
Top management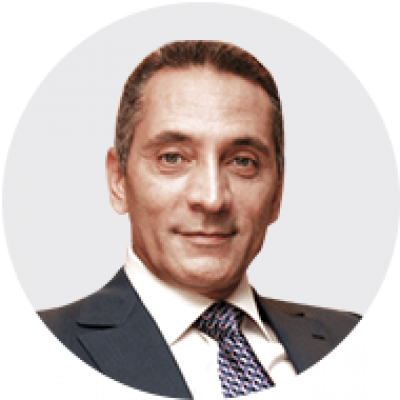 Moulay Hafid Elalamy
Chairman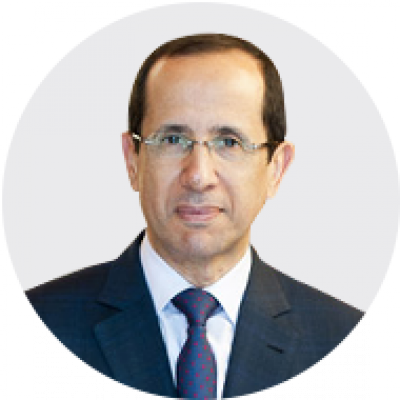 Saad Bendidi
Deputy CEO
Wendel's role in corporate governance
Board of Directors
Stéphane Bacquaert
Board of Directors of Saham Finances
Jean Azéma (former CEO of Groupama)