Capital held by Wendel
(1) As of December 31, 2020.
Crisis Prevention Institute, the leading provider of behavior management and crisis prevention training programs in the U.S.
Crisis Prevention Institute (CPI) is the US leader in crisis prevention and aggressive behavior management training programs. For 40 years, CPI has been providing crisis prevention and intervention training programs to help professionals anticipate and respond to anxious, hostile and violent behaviors with safe and effective methods. The training programs have proven effective in reducing the frequency and impact of incidents resulting from aggressive behavior in the workplace. They boost the confidence of professionals, assist clients in complying with regulatory obligations and create a safer environment for employees and the community at large.
Amount invested by Wendel
No. 1 in the United States
(2) Amount of equity invested by Wendel as of December 31, 2020.
Why did we invest in CPI?
CPI is the US leader and is seen by health and education professionals as the gold standard. The company's training programs have proven to be effective in improving personal safety and focus on the appropriate responses to high-risk situations. Moreover, they support staff retention and significantly reduce the likelihood of violence in the workplace as well as its seriousness and related costs. Drawing on in-depth knowledge of the relevant regulations at state and federal level, which are constantly changing and expanding in scope, CPI helps its clients to comply with regulatory requirements and to defend themselves in the event of incidents. 
CPI's longstanding financial success is evidence of the quality of services the company offers its clients. For a number of years, it has reported growth and increasing margins. CPI's business model is strengthened by its diverse customer base, a net retention rate of over 100% and the relationships it has built over the past twenty years with its 500 key clients. Our investment in CPI was motivated by the company's ability to expand this base, and to realize the significant potential for growth in adjacent markets and services. Wendel is supporting CPI management and employees in expanding the scope of their actions and creating a global training platform with an even greater impact.
Acquisition of Crisis Prevention Institute in the U.S., October 15, 2019
About CPI
On December 23, 2019, Wendel announced that it had finalized the acquisition of the Crisis Prevention Institute (CPI). CPI, which is headquartered in Milwaukee, in Wisconsin, has been the US leader in behavior management and crisis prevention training for 40 years. CPI specializes in "train the trainers" programs. These programs teach and certify individuals to instruct staff at their organizations to assess, manage, and safely resolve instances of high-risk, disruptive, aggressive or high-risk behavior in the workplace. After taking a course, these employees of CPI clients become Certified Instructors (CI). They then train their colleagues with a view to issuing them with CPI's Blue CardTM certification at the end of their program. 
The company's main clients are those in the fields of education and health in the United States as well as other sectors where behaviors are a key issue, particularly human services, corporate services and sales and security services. CPI has an installed base of over 39,000 active "Certified Instructors" who train over 1.4 million people a year. Over the last 40 years, CPI's certified instructors (CI) have trained over 15 million professionals in North America, Europe and worldwide.
A mission-led business that shares Wendel's values
Wendel is proud to be associated with CPI's mission aimed at reducing conflict and violence in the workplace. CPI is a mission-led business which provides essential services supported by its Certified Instructors and employees. They are all united around a common goal: ensuring the well-being of the company's stakeholders. As a supplier of essential services aimed at safeguarding communities, in particular where healthcare and support target the most vulnerable, CPI's mission and values are consistent with Wendel's Code of Ethics.
Outlook of development
CPI is benefiting from its position as leader in a market where demand for training on preventing and de-escalating crisis situations is increasingly high. CPI services are increasingly in demand due to a greater number of incidents and ever more restrictive regulations introduced by state and federal government. This is particularly true of educational and healthcare establishments which currently represent the bulk of CPI's sales. This is also increasingly the case in other sectors where violence and trauma in the workplace are commonplace.
In addition to continuing these initiatives aimed at expanding in the United States, CPI is also investing in increasing its international presence, which accounted for around 22% of sales in 2019, mainly to clients in Canada, the United Kingdom and Australia. The company is constantly evaluating and improving its training programs and teaching methods. It will continue to suggest improvements, specialized services and new technological solutions over time in order to equip clients who are exposed to varying degrees of risk, enabling them to manage violence at work effectively.
"We are excited to welcome Wendel to the CPI family. Wendel understands, and values, CPI's mission and is committed to supporting our continued growth for the long-term."
Top management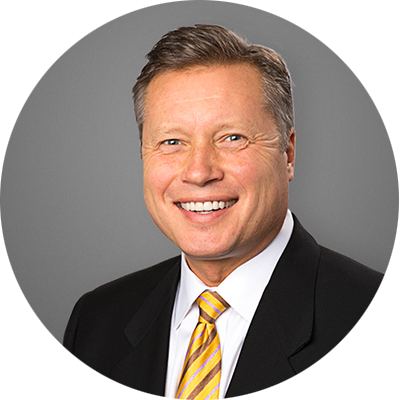 Tony Jace
CEO
Wendel's role in corporate governance
Board of Directors
Mel Immergut
Harper Mates
Adam Reinmann (Chairman)
Audit Committee​
Harper Mates (Chairwoman)
Adam Reinmann