Didier Michaud-Daniel,Chief Executive Officer of
Bureau Veritas
Didier Michaud-Daniel, CEO of Bureau Veritas for the last eight years, talks about the Bureau Veritas's financial condition and the challenges the group faces.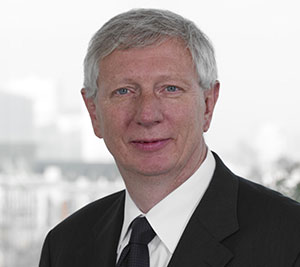 Were Bureau Veritas's 2019 results in line with budget?
We were aiming for substantial organic growth in sales in 2019, with continued improvement in the adjusted operating margin at constant exchange rates, and continued high cash flow generation. We kept to this roadmap, with excellent results. We crossed the threshold of €5 billion in sales, up 6.3% from 2018. Organic growth was 4.3%, and accelerated slightly in the second half of the year. We ended the year with the strongest quarterly organic growth in seven years, i.e. 5.3%. Adjusted operating margin was 16.3%, up 50 basis points. Finally, available cash increased by 29.2% relative to the previous year, to €618 million.
These results demonstrate that our portfolio has potential for growth and that our new business model is on target. We have successfully reoriented the model over the last five years, and we can be proud of what we have accomplished.
This year has so far been turbulent in many ways: a US-China trade war, embargoes, and more recently the healthcare and economic crisis related to Covid-19, to name but a few. How can a company such as Bureau Veritas, which is highly exposed to all the regions affected by the crisis, overcome these uncertainties?
Nearly five years ago, Bureau Veritas defined a strategy to enhance its growth profile, resilience, and profitability. Today, Bureau Veritas is more diversified and less exposed to industry cycles. Nevertheless,
there can be unforeseen upheavals in the life of any company. Concerning the Covid-19 epidemic, our number one priority is the safety of our employees. Bureau Veritas is monitoring the situation attentively
and has taken all appropriate measures to protect its employees.
The post-lockdown period is a very sensitive one for all businesses. We have launched a plan called "Restart your business with BV" (see inset), aimed at supporting the reopening of businesses in all sectors of the economy under appropriate health, hygiene and safety conditions.
Economically, the situation will of course have an impact on 2020 performance. We have confidence in our ability to develop the group in the medium to long-term, however, by strengthening our geographic network and the leadership positions we command on our markets.
You say that in today's globalized economy, transparency is considered to be the "new gold standard of confidence". Just how much transparency? Doesn't the profusion of information, especially non-financial information, dilute the message for the end user?
It's true that transparency is the new gold standard of confidence and has become a necessary safeguard against potential economic, social and environmental dysfunction. With economic globalization, value chains have become extremely complex. They can include dozens of suppliers and intermediaries spread around the planet. What is complex can often be opaque, and can generate a certain amount of mistrust.
In my opinion, transparency around a product is based on three key concepts: guaranteed origin, quality assurance and societal impact. Companies such as Bureau Veritas have the expertise necessary to guarantee the origin, quality or ethical nature of manufacturing processes. Transparency must not be self-proclaimed. It must be based on methodologies applied by impartial and independent experts, i.e. by trusted third parties.
The relevance of the information, meanwhile, is not in its volume but in its quality and in how well it is interpreted. We must analyze extremely complex raw data, distill the essential information and share the
most pertinent message. This is Bureau Veritas's job. The big data era must become the right data era.
Bureau Veritas's original business was ensuring compliance. Gradually, the company developed expertise in traceability. Today, industrial companies must also be sensitive to societal objectives (environment, ethics, etc.). What is Bureau Veritas's role in these areas?
Our customers ask us to help them prove they are meeting their commitments on a wide variety of topics.
Here are some examples: sustainable, efficient and safe buildings and infrastructure; greener energy and
transition to a carbon-free future; the circular economy; food safety, quality, traceability and sustainable
agriculture; safe, secure and environmentally-friendly connected devices; environmental protection, respect for human rights and ethical conduct over the entire value chain.
Our customers also want us to understand the complexity of their operational environment and their needs. For example, they want their supply chain to be traceable. They might also be concerned about the technological advances upon which their business activities depend. Since we are active in so many fields, we can respond to a multitude of needs: independent evaluations, measuring progress, compliance benchmarks, key performance indicators, impact studies, etc. We also accompany our customers when they want to go further and develop their own standards and benchmarks.
What will be Bureau Veritas's main challenges over the next few years?
Firstly, digitalization. The recognized expertise we have developed over the last 200 years in the real world
must continue to be transposed into the digital world.
A certain number of digital technologies – such as artificial intelligence or blockchain, to name just two
– are fundamentally changing the global economy and the corporate modus operandi. We are already positioned on this topic – specifically via a partnership in artificial intelligence with Microsoft since 2018 – and I hope we will keep moving in this direction. New, digital-related ICT services will enable Bureau Veritas to develop a new market: digital product and service testing and certification. These services will include cybersecurity certification, personal data protection, sensor testing, connectivity, etc. In addition, we must remain a leader in corporate social responsibility, helping our customers prove they are meeting their commitment over their entire supply chain.
For example, we launched Circular+ in 2019, a suite of audit and certification services oriented around
conserving natural resources, recycling, environmental management, optimizing energy consumption and
reducing greenhouse gas emissions. But this is only the beginning!
Restart your business with BV
Bureau Veritas has deployed a suite of solutions called "Restart your business with BV" to support companies of all sizes as they reopen their businesses and to help them do so while adhering to appropriate healthcare measures.
Through the "Restart your business with BV" initiative, Bureau Veritas is using its expertise in process certification and in managing health, hygiene and safety risks to help the economy reopen.
As part of this initiative, we have developed a digital ecosystem to respond to two needs that have been expressed by our customers and the public authorities:
traceability, by making all of the data and key performance indicators available to them as well as a 360° view of their compliance, globally and at any given location;
transparency by enabling the general public to verify that a company has a valid label and to identify other valid labels in a given geographic area. Customers can put all of the information we provide on their website or use it in their applications, and third parties can also use it, based on the open data principle.