On December 1, 2022, Wendel hosted its 21st annual Investor Day, dedicated primarily to the Group's unlisted companies. This annual event is an opportunity for the financial community to interact with the senior management of the Group's companies and better understand the long-term value creation potential of Wendel's portfolio.
André François-Poncet, whose term as Group CEO ended the same day, looked back over his five years as head of Wendel and emphasized the Company's resilience against a difficult macroeconomic background: "Wendel has a particularly sound financial condition. We are still early in our trajectory toward a portfolio with more growth. It's a strategy that holds promise for patient investors." He reaffirmed his support for Laurent Mignon, who was present to greet shareholders just before taking over as Group CEO.
The executives of Constantia Flexibles, Stahl, ACAMS and CPI were present and spoke about recent events in their companies, their outlook for growth in the coming months and presented their ESG commitments. Taking into account environmental, social and governance criteria is an integral part of the strategy of Wendel's portfolio companies.
Here are the highlights of the 21st annual Investor Day.
"Wendel Lab" has been renamed "Wendel Growth"
Jérôme Michiels, Executive Vice-president, CFO and Director of Wendel Growth, explained this change: We are no longer a lab but rather a full-fledged division of Wendel with great ambitions and attractive prospects. The time has come to adopt a name that resonates more with our environment and that better corresponds to what we seek: growth propelled by innovation, the key aspect of our strategy and the one that can generate synergies with the companies in our portfolio and contribute to accelerating growth throughout Wendel. We are continuing to build our portfolio of funds vigorously and prudently, by selecting the best fund managers in the categories that we are targeting.
With Wendel Growth, Wendel is investing via funds or directly in innovative and fast-growing companies. Having already committed nearly €170 million (as of Investor Day) over the last few years, Wendel Growth seeks direct investment and co-investment opportunities in start-ups, such as our 2019 investment in AlphaSense.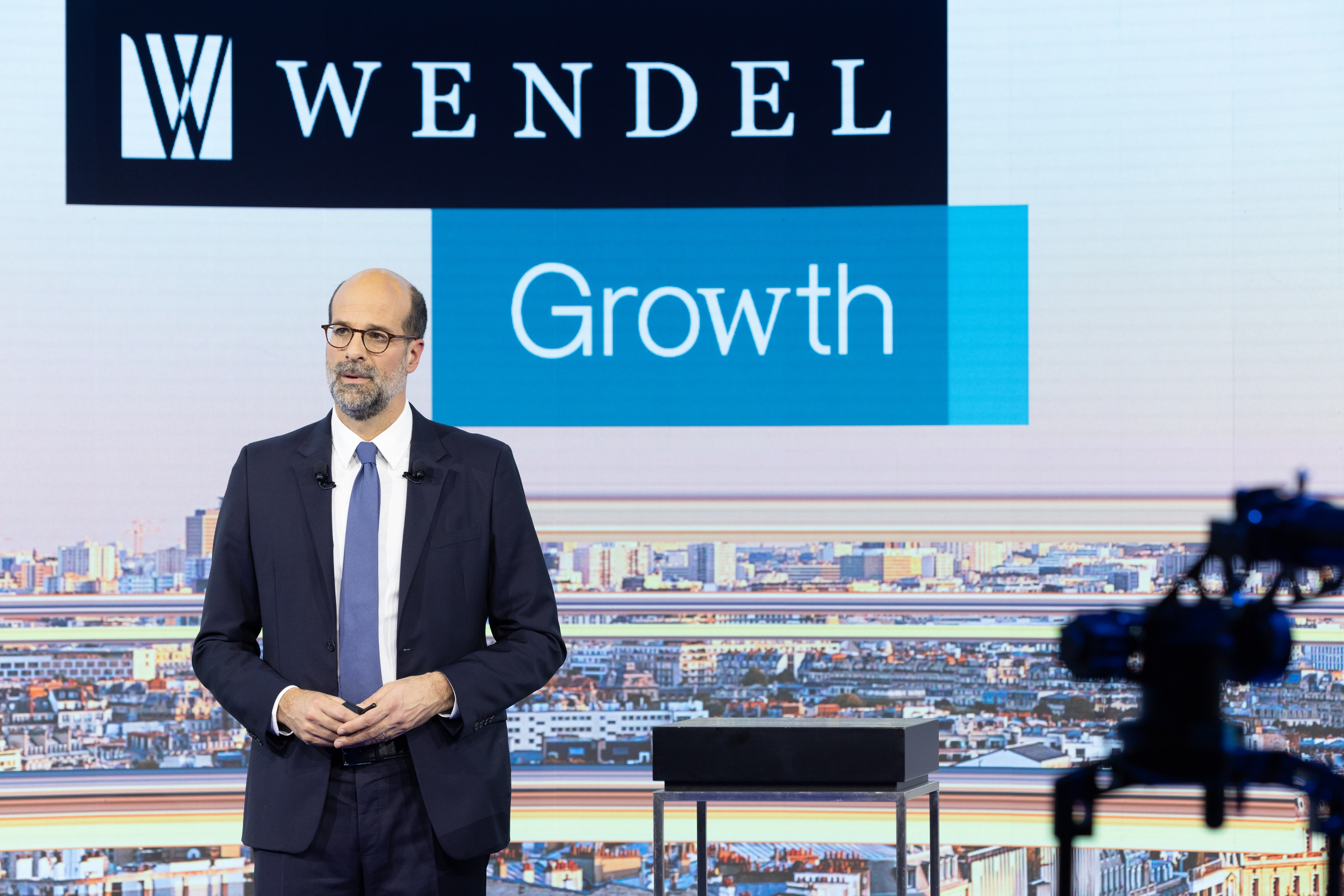 Jérôme Michiels, Executive Vice-President, Chief Financial Officer and Director of Wendel Growth
Wendel Growth's first direct investment in Europe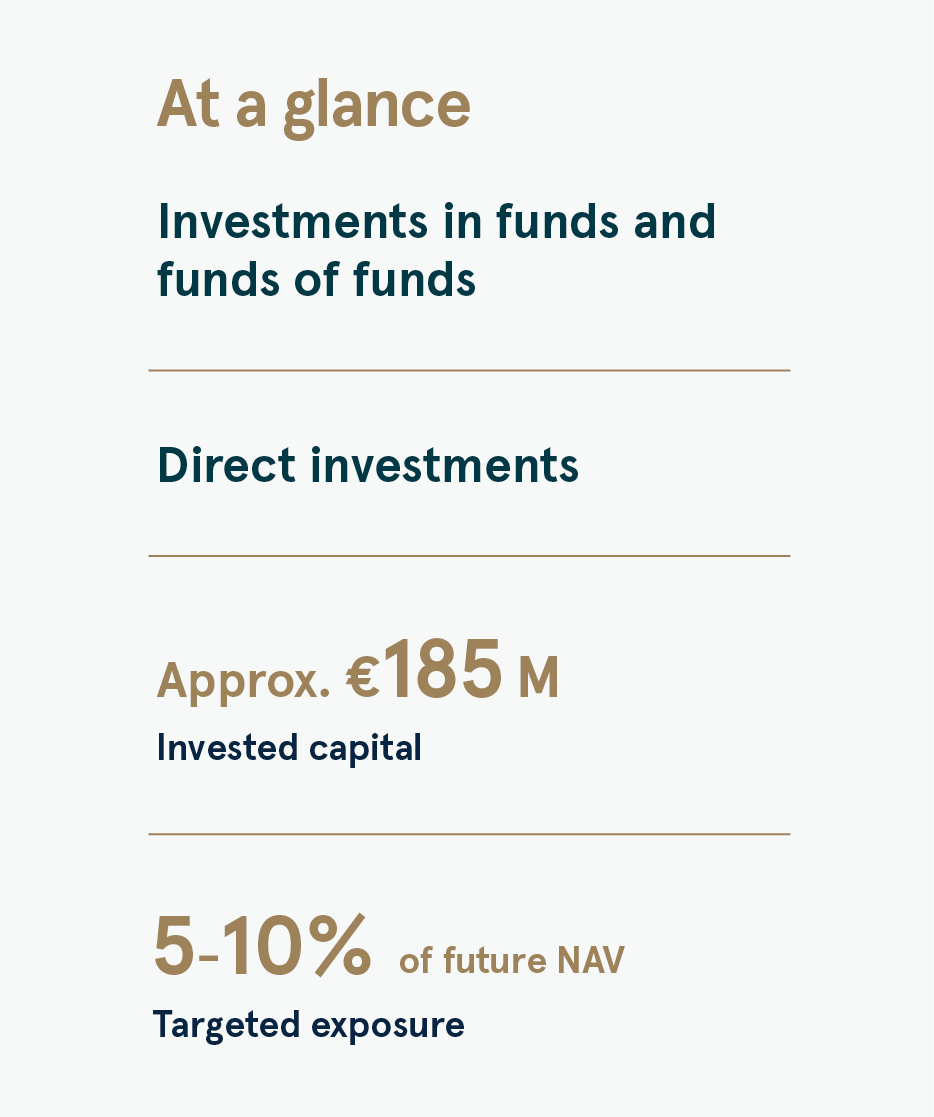 In early 2023, Wendel announced its first direct investment in Europe via Wendel Growth with the signature of a definitive agreement to acquire a minority stake in the capital of Tadaweb. Wendel will invest €15 million in equity to support the company and its growth.
Tadaweb provides open-source intelligence (OSINT) platforms that enable organizations to generate actionable intelligence by making analysts' investigative methods hyper-efficient, reducing time to insight from several weeks to a few minutes. Tadaweb's platforms enable them to increase their impact considerably across the vast and volatile reaches of the internet. The company is growing quickly and has more than 120 employees, with headquarters in Luxembourg and offices in Paris, London and Ottawa.
Constantia Flexibles, a world leader in flexible packaging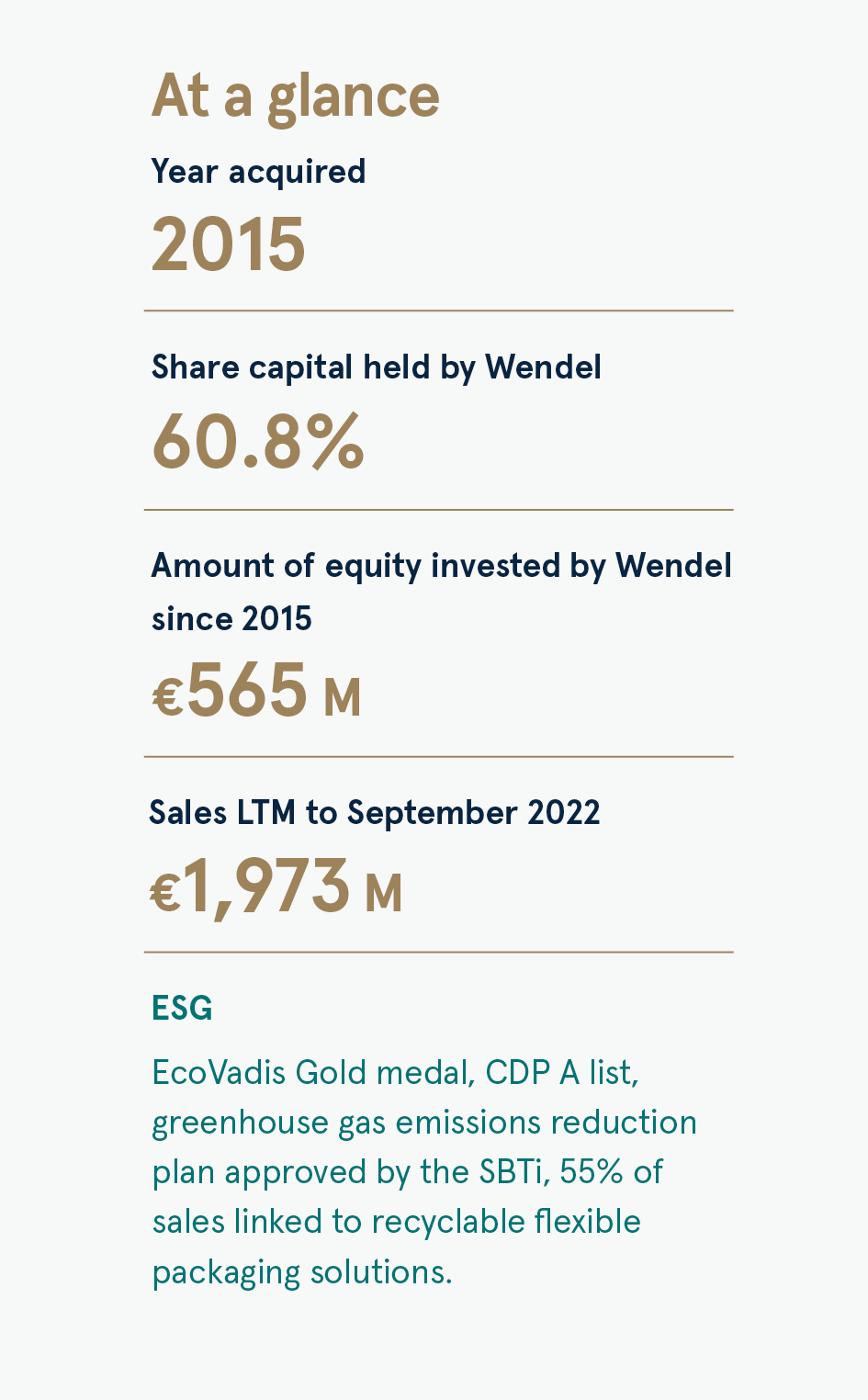 Wendel invested in Constantia Flexibles in 2015 alongside the founding family. In 2017, the group refocused on flexible packaging after selling its Labels division. Constantia Flexibles is now one of the world's leaders in flexible packaging for the pharmaceutical and consumer goods industries. It is no. 2 in Europe and no. 3 worldwide.
For the 12 months to September 2022, Constantia Flexibles achieved sales of €1,973 million, representing organic growth of 23.7% over the year-earlier period. CEO Pim Varvaat pointed out that this strong growth derived from both volume gains and the higher prices that were necessary to cover rising costs, in particular raw material costs.
This growth, as well as constant organizational optimization and the acquisition of ProPak last year, led to a significant rise in EBITDA, which increased more than 30% from around €100 million in the first half of 2021 to €133 million this year. In addition, Pim reiterated the company's performance in generating cash. Better working capital performance combined with strengthened investment discipline resulted in lower debt ratios.
ESG
With regard to sustainable development, flexible packaging, whether composed of plastic, aluminum or paper, presents all sorts of advantages. It is light and can be easily folded. Especially, it provides excellent protection and leaves only a light environmental footprint. As for its recyclability, 85% of the products made by Constantia Flexibles are now either recyclable or have a recyclable alternative. Sustainability is one of the company's priorities. Constantia Flexibles aims to have a recyclable solution for 100% of its product ranges by 2025.
Constantia's activity has been resilient throughout the pandemic. The company is at the forefront of sustainability and is delivering outstanding growth and profitability for the second year in a row, despite the context of global inflation.
Stahl, world leader in performance coatings and surface treatments for substrates and flexible materials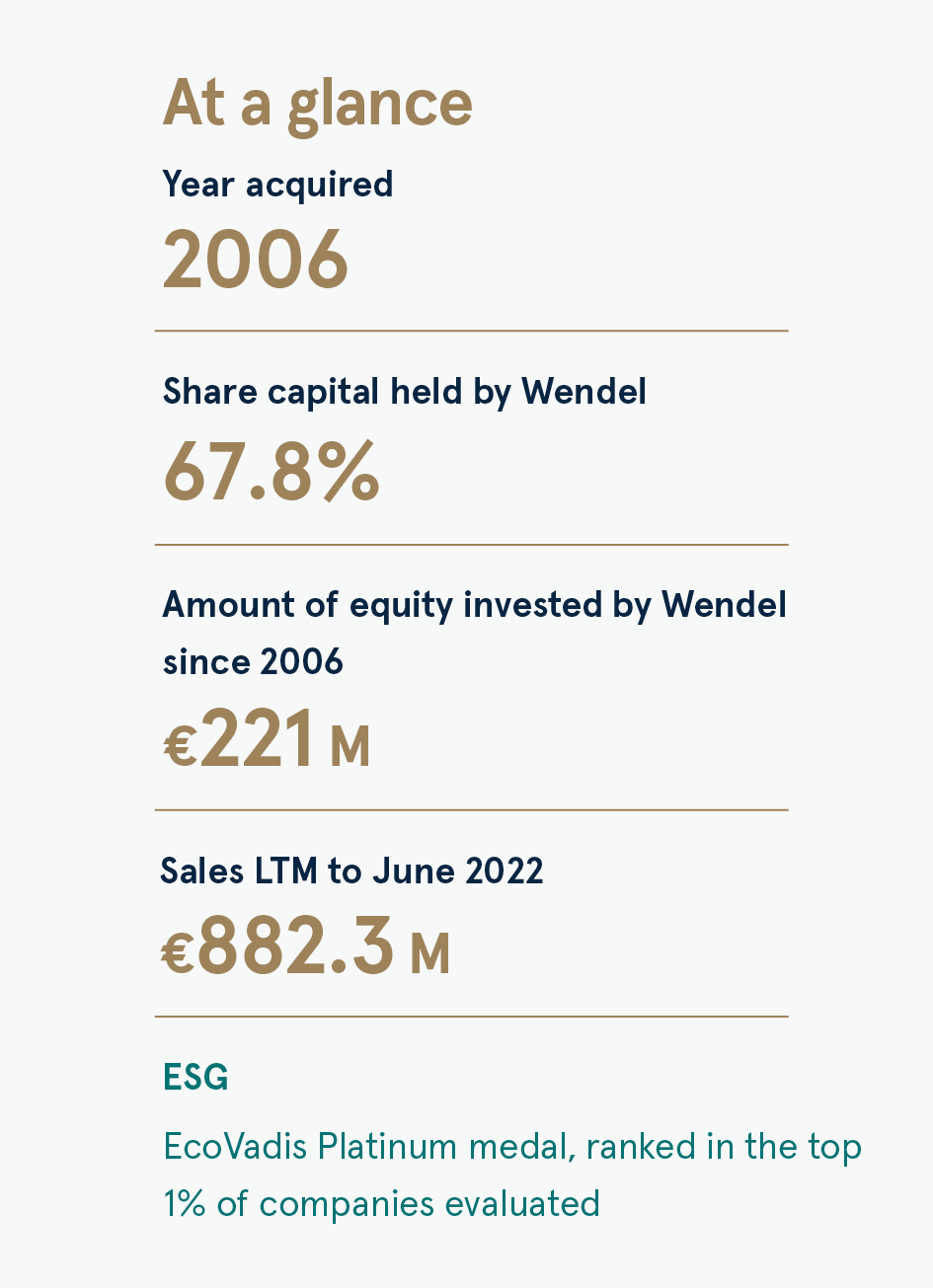 Initiated in 2006, Wendel's investment in Stahl is a long-term one, and has been an extremely profitable one right up to the present day. Over the years, Wendel has helped Stahl to become the uncontested worldwide leader in its markets, through consolidation of the leather chemicals sector, diversification into performance coatings and significant organic growth obtained by focusing on innovation and sustainable development.
Maarten Heijbroek, Stahl's CEO since July 2021, has redefined the company's strategic direction and obtained sound financial results in his first year. Nine-month 2022 sales exceeded expectations, with significant growth in performance coatings and leather finishing.
Stahl posted a very favorable first half, despite inflationary pressure and a decline in volume. Price increases were successfully applied in all segments to soften the strong impact of increased production costs. Stahl took on the second half of 2022 with widening margins to offset the decline in volume. "Following a sound third quarter, we are optimistic about finishing the year in excess of our expectations," said Maarten.
Stahl is looking to the future with confidence. It has leadership positions in all of its markets, is well diversified geographically and is experiencing very fast growth in its performance coatings business.
ESG
On the ESG front, Maarten emphasizes the effort his company has devoted to environmental action, in particular to achieving the objectives of the Paris Agreement. Stahl is the first company in the sector to have posted an objective of reducing Scope 3 carbon emissions. Stahl's objective is to reduce the carbon footprint of its supply chain by 25%. This represents nearly 80% of its total carbon footprint, or 750,000 tons. "This means we must use less fossil-based raw materials and replace them with renewable materials."
Maarten is also pleased to have obtained EcoVadis's Platinum status, which indicates that Stahl is in the 1st percentile (top 1%) of the 90,000 companies evaluated worldwide. "2022 was a big year for Stahl in environmental action and social well-being."
ACAMS, the world leader in training and certification services for combating money-laundering and preventing financial crime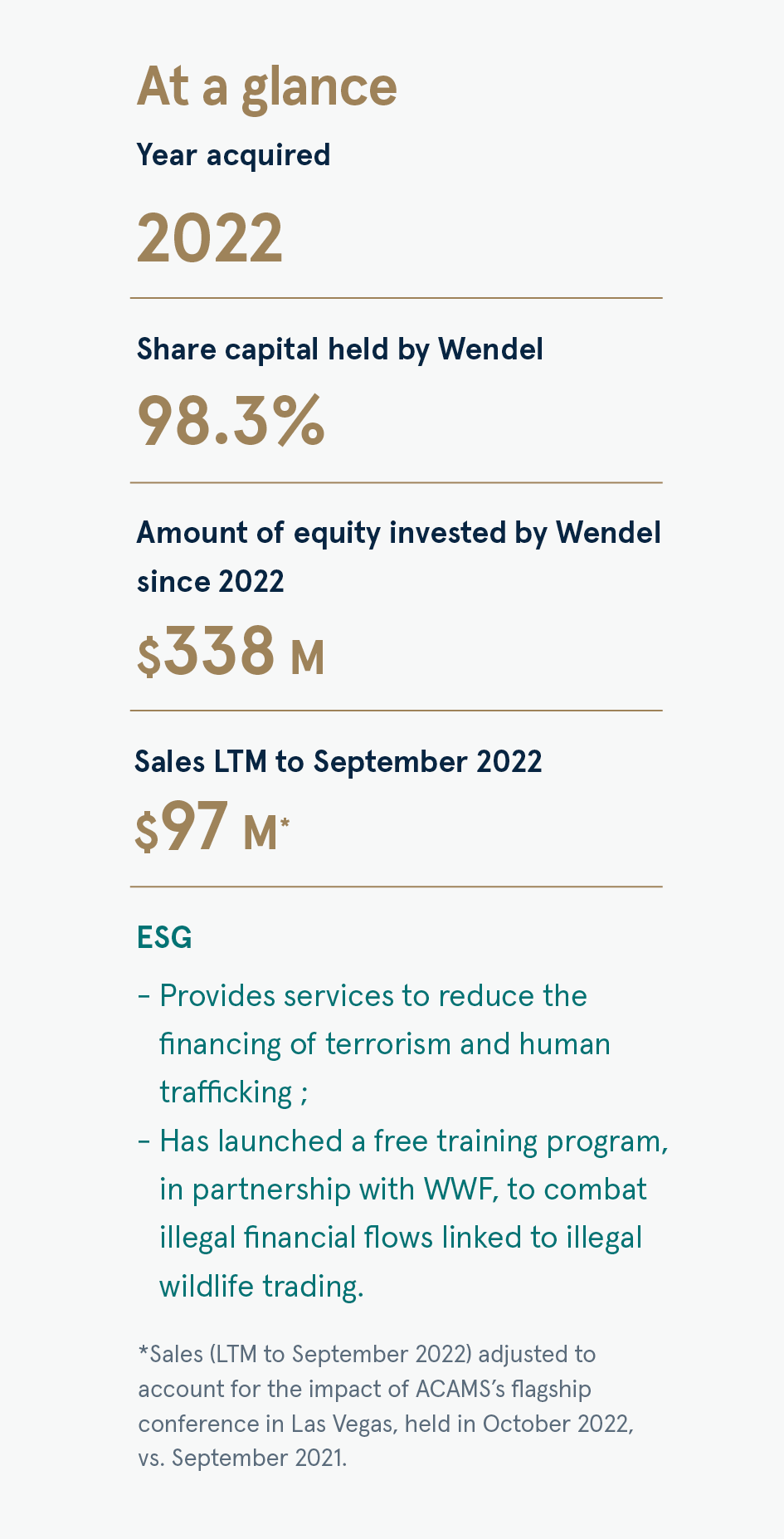 ACAMS's mission is to combat financial crime at a time when criminals are using increasingly sophisticated tools, and the regulations for combating these crimes is becoming stricter and more costly.
Wendel invested $330 million in March 2022 to acquire ACAMS from Adtelem. The carve-out process, aimed at making ACAMS an independent company, is continuing and is expected to be completed by March 2023.
During the first nine months of 2022, ACAMS posted sales of around $97 million, increasing its sales, earnings and membership, despite a complex macroeconomic environment.
This was the first Investor Day for the executives of ACAMS, and they used it to present their high-performance ecosystem, composed of lectures, conferences, training sessions, certificates, social impact programs, webinars, software, podcasts and more.
Mariah Gause, Director of Operations, indicated that the company had hired new talent to beef up staff and support the carve-out process. "Over the last nine months, we have been able to offer new products and services while at the same time building a completely new ACAMS brand. We have created new functions and new processes, selected and implemented new tools and new technologies and hired experienced individuals, in particular a CFO, a CIO, a Director of Marketing and a General Secretary."
CEO Scott Liles emphasized ACAMS's sound, long-term potential and its ability to diversify its activities, extend its geographic footprint and penetrate new market segments.
CPI, the leading US provider of behavior management and crisis prevention services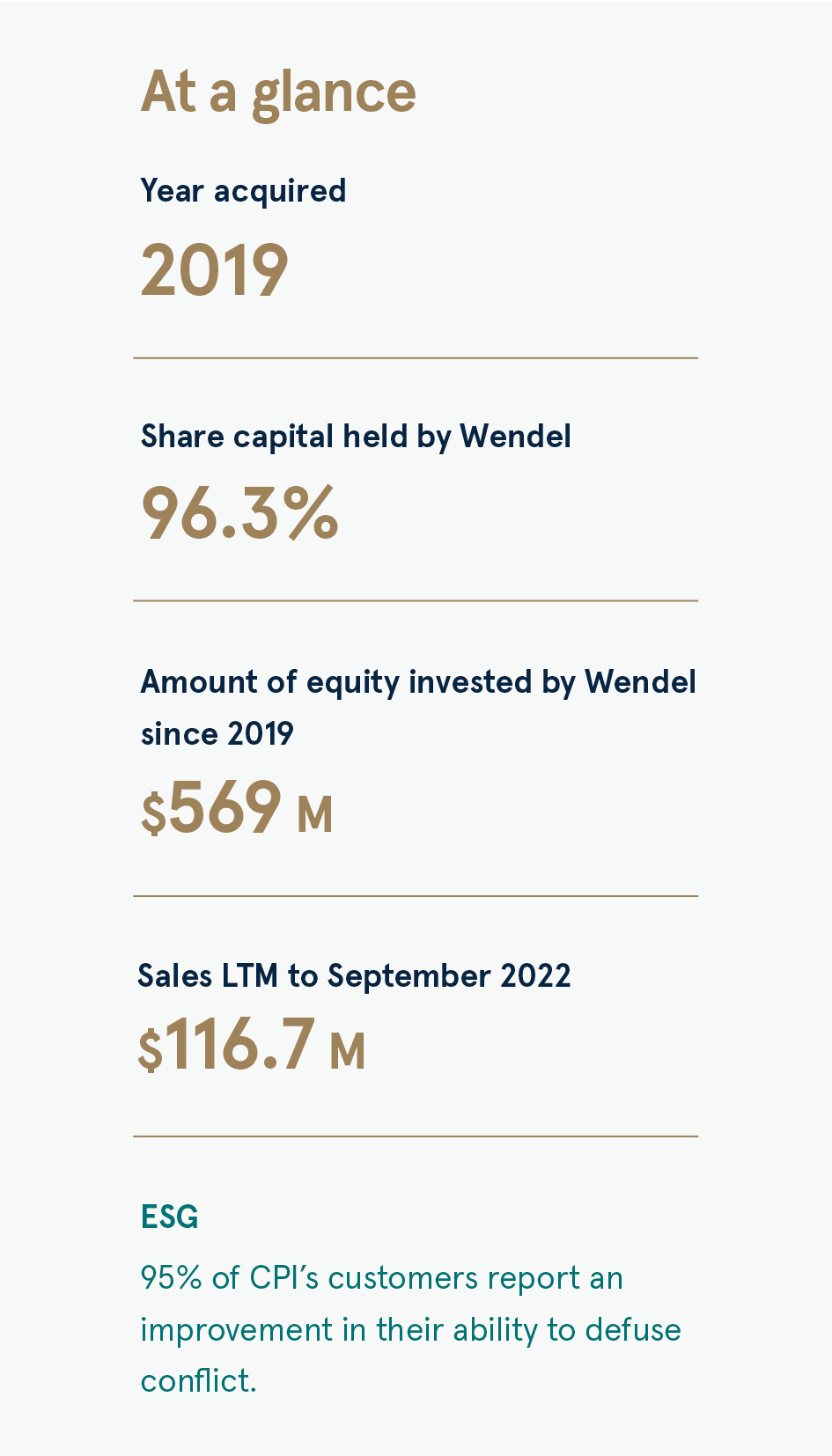 Wendel acquired CPI in December 2019, when it invested $569 million in equity. CPI is the market leader in certification and training aimed at preventing violence in the workplace.
Over the last 12 months, CPI achieved sales of $116.7 million. During the first half of 2022, CPI posted growth of +19.8% in sales and 27.8% in EBITDA. The company's free cash flow conversion ratio has been over 95%* for an extended period. Since 2008, CPI has posted average annual growth in sales of around 13%, almost all of which has been organic.
Three years after being acquired by Wendel, and despite the pandemic, CPI's sales have increased by more than 30% and EBITDA by around 50%. Meanwhile, its debt multiple has declined from seven at the time of the acquisition to around five currently.
This sound performance derives from strong growth in the company's principal markets (healthcare, education, mental health and personal services), new specialized programs and a shift to online training, which has the dual advantage of generating wider margins and leaving a lighter carbon footprint. This change was successfully implemented during the pandemic.
"CPI has invested heavily in its people and its technology to extend its range of services and its worldwide presence," explains Tony Jace, CEO since 2009.
International expansion is another growth vector, in particular in France and in the United Arab Emirates.
* Free cash flow conversion ratio: (Adjusted EBITDA-CAPEX)/Adjusted EBITDA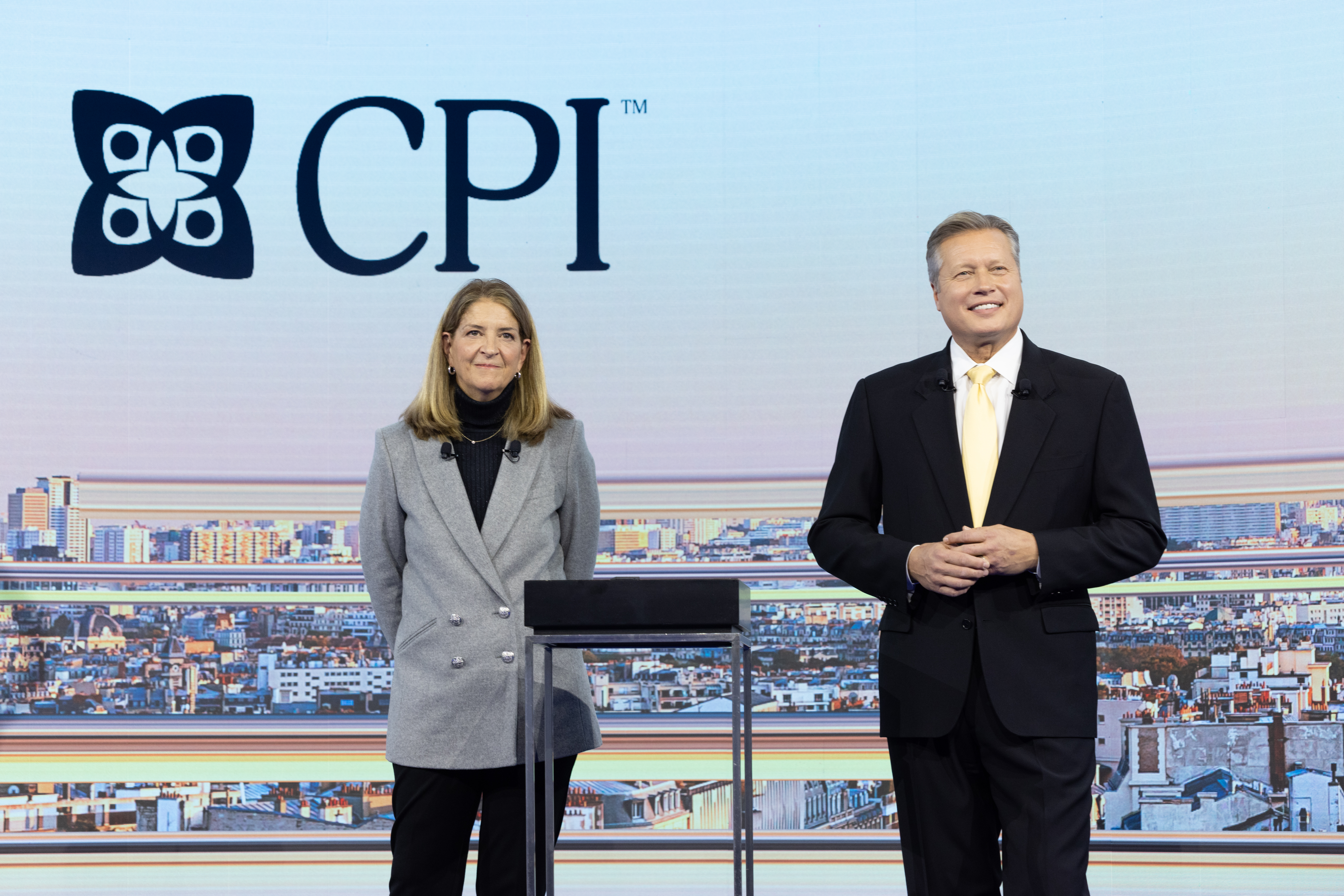 Susan Driscoll, President of CPI et Tony Jace, CEO of CPI