Wendel signed an agreement to sell Constantia Flexibles, a global leader in the flexible packaging market, to an affiliate of One Rock Capital Partners, LLC.
Constantia Flexibles would be sold for a price that yields net proceeds  for Wendel(1) of c. €1,097 million, reflecting a multiple of 1.94 times Wendel's total investment in Constantia Flexibles since 2015. The transaction net proceeds are €84 million above Constantia Flexibles' valuation in Wendel's net asset value published before the transaction announcement, i.e. as of March 31, 2023.
Furthermore, additional proceeds generated by the Company's ongoing assets disposals, could bring the proceeds up to €1,124 million, i.e. a valuation 11.0% higher than the NAV at March 31, 2023, and 6.8% higher than the NAV at June 30, 2023.
The closing of the transaction should take place during the second half of 2023, subject to the satisfaction of the contractual conditions precedent, including clearance by regulatory authorities.
History of Wendel's investment in Constantia Flexibles
In March 2015, Wendel finalized the acquisition of Constantia Flexibles for an enterprise value of €2.3 billion and invested €640 million in equity for a 73% stake in the company, alongside the AREPO Foundation.
In fall 2015, Wendel signed an agreement to syndicate a minority share of its investment. In November 2015, Maxburg Capital Partners acquired approximately 11% of the capital of Constantia Flexibles from Wendel for €101 million. Following this transaction, Wendel, the AREPO Foundation and MCP participated in a €50 million capital increase for Constantia Flexibles, to finance the acquisitions of Afripack and Pemara.
Following these transactions, Wendel's equity investment in Constantia Flexibles totaled €565 million. Wendel is the company's controlling shareholder, with 60.8% of the share capital.
In 2017, Constantia Flexibles sold its Labels business to Multi-Color Corporation. This value-creating transaction gave the company additional resources to bolster its growth strategy in the flexible packaging market, where it is a world leader in segments such as confectionery foils, diecut lidding, alu-container systems and pharma foil.
Under its ownership, Wendel supported Constantia Flexibles in its external growth strategy, with 11 acquisitions in 10 countries.
ESG
For more than eight years, Wendel has actively supported Constantia Flexibles in its ESG challenges, and more specifically in the issues of the circular economy, the fight against climate change and occupational health and safety.
For more information, please read the press release available on our website.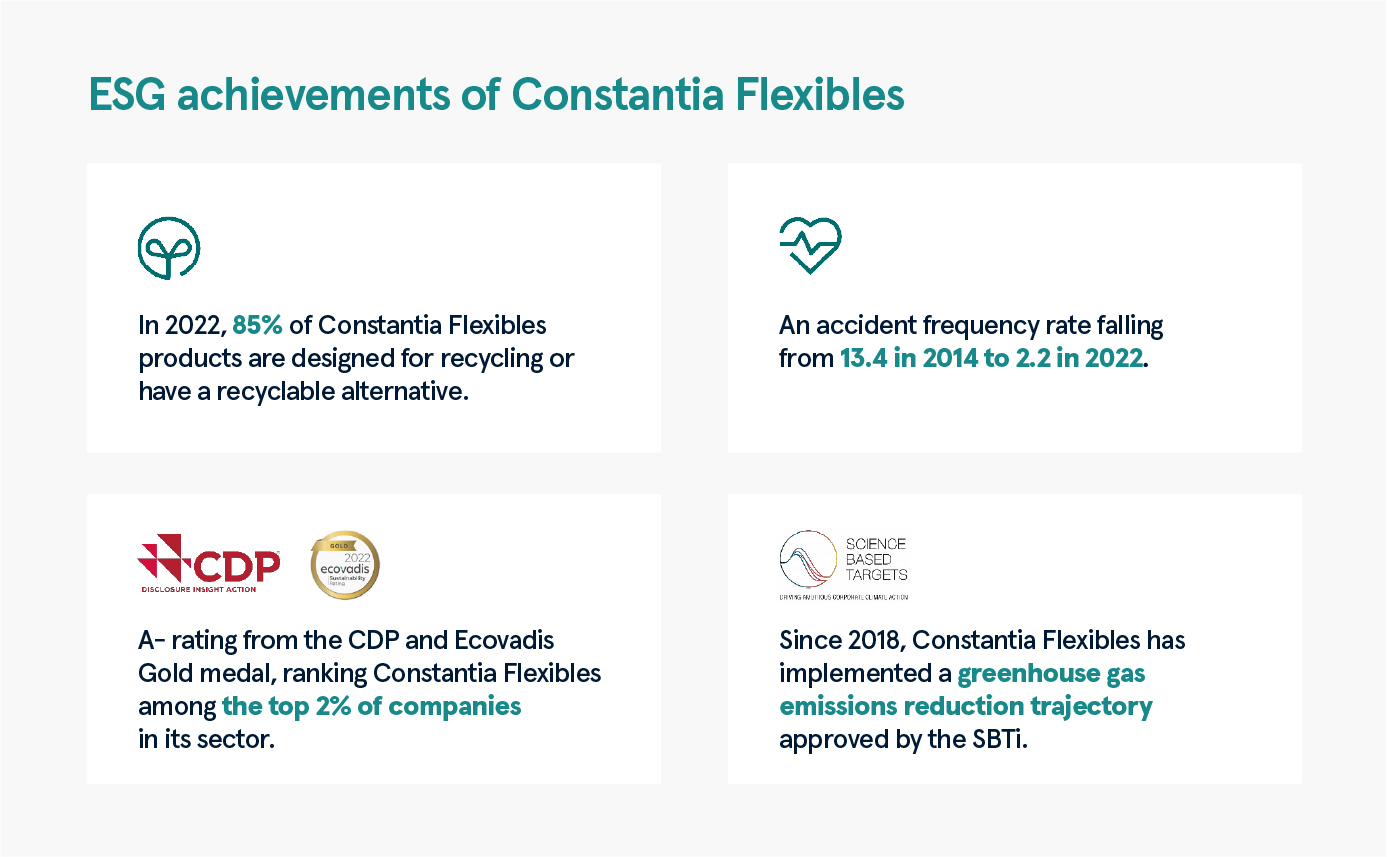 (1) Net proceeds after financial debt, dilution to the benefit of the Company's minority investors, transaction costs and other debt-like adjustments.