Wendel is a family-owned company steeped in nearly 320 years of history, initially in manufacturing, then in investment. Has ESG represented a change of course for you ?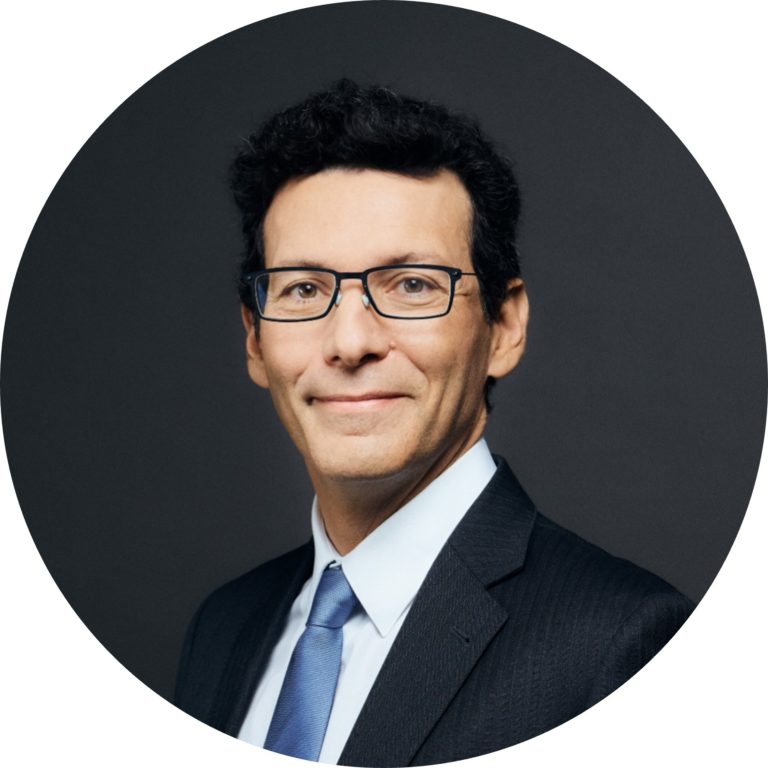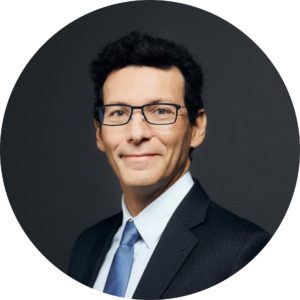 David Darmon I'd say that Wendel has always had a natural penchant for responsible investing, which we have greatly accelerated since 2020.
In the 19th century, the Wendel family innovated in its factories. By mixing good economic sense with Christian values, Wendel ensured the well-being of its employees at a time when it was not the obvious thing to do. Wendel provided housing and a garden for factory workers and their families, a social security backstop, including childcare, and salaries in accordance with rank at a time when arbitrary wage policies were the rule.
Today Wendel has a very ambitious social policy (financing for childcare facilities, health, death & disability insurance, semi-annual health checkups). All of this is part of our culture.
In our investing activity, our long-term approach has meant that we have always put priority on sustainability. We demand health and safety performance, and we share the value we create whenever possible upon sale of an investment (bonuses for the French employees of Deutsch in 2012, and for all employees of CSP in 2018, for example).
In 2020, we decided to step up our efforts and make ESG one of Wendel's distinctive traits. We formalized a two-level ESG strategy (holding company and portfolio). Allow me to say a few words about our ESG strategy. We are clearly not an impact fund. Our strategy is based on our conviction that sustainable value creation requires profound changes in the companies in which we invest. Our objective is to use ESG to increase the resilience of our business model and to make those companies more attractive for all of their stakeholders. Because we are focused on business model sustainability, we invest in companies that are well-positioned in this regard, as demonstrated by our investments in CPI and ACAMS. We support the companies in our portfolio in their transition, as we did with Stahl and Constantia Flexibles.
Specifically, how has ESG been integrated into your investment decision-making ?
D.D. We have integrated ESG along the full investment cycle with a responsible investment process in line with our raison d'être, which is to "partner with entrepreneurial teams to build sustainable leaders".
The first step is a list of exclusions, the sectors in which we will not invest. But that's the easy part. There are often gray areas that we debate internally. I'm thinking of an opportunity to invest in a manufacturing company that our list allowed but that we didn't pursue because the activity emits too much CO2 and is not transformable. The Executive Board reviews this list every year. In 2022 we added furs, asbestos and firearms. We then conduct an in-depth ESG due diligence before making an offer (the ESG team meets with management and consults with the Investment Committee before any firm offer is made). In general, integrating ESG due diligence with strategy works best, because ESG analysis is then integrated into the investment thesis.
During the holding period: we commit to creating an ESG roadmap for the companies in which we invest within 18 months of acquiring them. These roadmaps are based on the principal due diligence conclusions and must include the four ESG priorities Wendel has defined: climate change, parity and diversity, health & safety, sustainable and/or ecodesigned products and services.
At exit: we prepare an exit memo and, whenever possible, we share the value created.
What are the major ESG trends in today's investment universe?
D.D. I would identify two trends.
The first is that we need certified and comparable data. This, by the way, is exactly the challenge regulators are and will be facing (taxonomy and CSRD). The lack of standardization has given non-financial rating agencies tremendous leeway. All listed companies are now trying to validate their ESG performance through ratings. It's also what investors look at, for want of any more reliable benchmarks.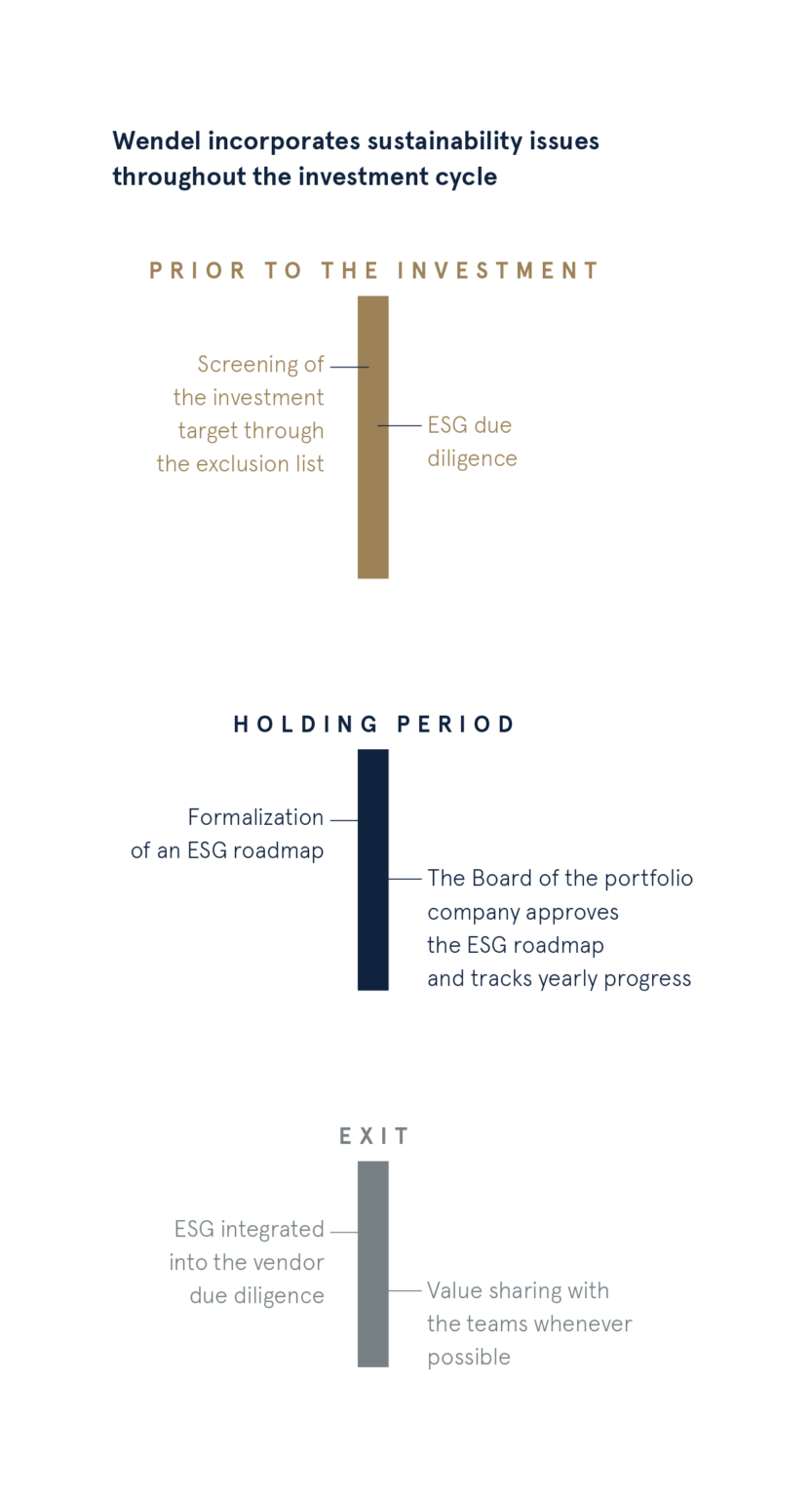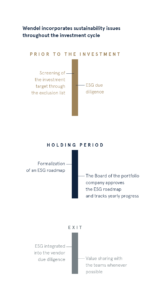 We see this trend is an opportunity, because, as Bureau Veritas's controlling shareholder, we have a front-row seat. More than 55% of Bureau Veritas's sales derive from its green line services. These solutions enable companies to address their sustainable development challenges.
The second trend I think is to prioritize the E in ESG, especially to combat climate change, even though the pandemic and the war in Ukraine have raised the profile of S and in particular health and human rights. On this question, I think a lot is riding on decarbonization strategies, which must be scientifically validated. More and more companies are undertaking SBTi (Science-Based Target initiative) certification. Today 75% of our companies have started down this rigorous path (only Constantia its fully SBTi certified).
We have also seen cases of greenwashing that have attracted a lot of attention and have had serious consequences. To a certain extent, greenwashing can sow doubts about legitimate corporate ESG practices. But in contrast to the greenwashing seen 10-15 years ago, today's greenwashing is not failing to do what one says but doing it poorly or incompletely. The bar is now significantly higher than it was then and will continue to be raised further.