Dear Wendel shareholders,
Now that the mandate granted to me by your company's Supervisory Board is coming to a close, as I announced in June, I would like to thank you warmly for the five years I have spent as Group CEO of Wendel.
Together, we have faced strong headwinds: target company valuations bloated by an overabundance of liquidity induced in turn by unprecedented monetary policy, a worldwide pandemic, war in Europe, cost inflation and more recently a sudden rise in interest rates and its brutal impact on financial markets.
When I joined Wendel, the Supervisory Board set out several priorities for me. Among these were to simplify Wendel's organization and portfolio so as to enable us to deploy a rejuvenated investment strategy, to seek out investments with a potential for growth and to revamp compensation.
The first order of business was to refocus our portfolio, consolidate our footprint abroad and strengthen our financial structure and that of our companies. We exited the capital of eight companies, especially the smallest in value terms, taking advantage of a seller's market environment. In particular, following a risky reinvestment in Cromology in 2018, in the wake of a change in senior management, we ended our Materis adventure on a favorable note. We also ended our costly journey with Saint-Gobain. Thanks to this refocusing, Wendel's portfolio is now more logical, easier to understand and much better organized. Bureau Veritas's balance sheet has been considerably strengthened and its net debt, like Wendel's, has been reduced. The maturity of that debt has been extended at extraordinarily favorable terms that we will probably not see again.
We also started to redeploy the portfolio toward fast-growing sectors and to strengthen our presence in North America. Wendel has already proven itself directly and through its New York office in this promising region, which is culturally similar to ours. We have continued to invest energetically, devoting ca. €1 billion to the acquisition of a controlling stake in CPI and ACAMS. We have also built up Wendel Lab by bringing in recognized US funds. Our work is far from finished, and it will be up to my successors to pursue it. In North America, Wendel is now structurally more exposed to high-potential service sectors, such as training, fighting financial crime and preventing violence in schools and hospitals. Of course, Wendel is also present in North America through Bureau Veritas, Stahl and Constantia Flexibles.
Finally, there was the less-visible part of our work: understanding and augmenting the underlying performance of the companies in the portfolio and focusing Wendel's efforts on these companies. In this regard, the Wendel team, and in particular our operating partners, considerably improved the monitoring of portfolio companies, whose profitability improved, in some cases spectacularly, at times owing to difficult decisions. Similarly, I'm particularly proud that our ESG commitments have been recognized. Wendel and its companies have distinguished themselves in ESG and have built a lasting competitive advantage over their competitors.
Bureau Veritas has also transformed and modernized itself, under the leadership of Didier Michaud-Daniel and supported by a reshuffled management team and Board. The company is now much better valued compared with its rivals.
With the portfolio refocused and results on the rise, Net Asset Value (NAV) per share has increased, despite a disappointing stock market valuation on one of our large long-standing investments. We have been able to make timely share buybacks and especially to increase the dividends paid to shareholders year in and year out (except 2020), without suspending the dividend during the Covid crisis.
Wendel's team and the management teams of our companies have been considerably strengthened, and the proportion of women on them has increased. Our decision processes are now more robust.
Your company now has less debt, ample liquidity and high-quality assets, giving it more flexibility and room to maneuver. Wendel is now looking at the future with confidence, ready to use its dry powder to seize new opportunities in a valuation environment that we believe will become more favorable to buyers.
Conditions are therefore right for Wendel to embark on a new chapter in its history with a new Group CEO.
I am particularly pleased to hand the reins to Laurent Mignon, who will take over as of December 2, and I wish him all the best at Wendel for the years to come.
David Darmon has been a wonderful partner for me on the Executive Board, contributing his knowledge of the Group, his talents as an investor, his experience in the United States, his vitality, his integrity and his judgment. All of us, starting with me, are indebted to him.
Lastly, I would like to thank my expert colleagues at Wendel, among them Priscilla de Moustier, Chairwoman of Wendel Participations, and I would like to thank you, our numerous shareholders, for the trust you have placed in me over these last five years. Of course, I am particularly grateful to the Supervisory Board, your representatives, under the enlightened, benign, yet demanding and constructive chairmanship of Nicolas ver Hulst. They recruited me, they renewed my appointment and they supported our projects with their precious advice.
In this emotional moment, I wish you all the best for the future.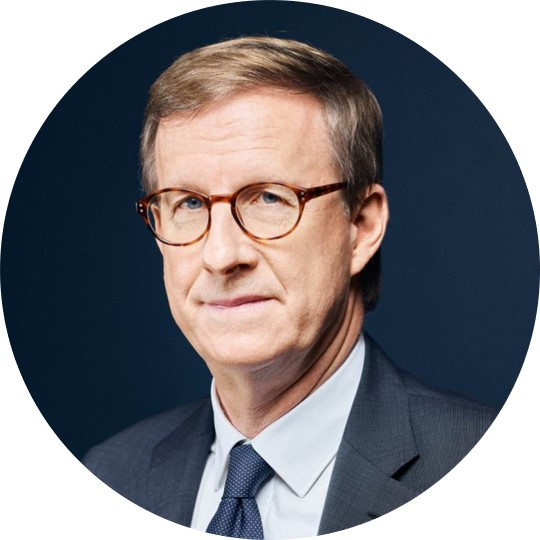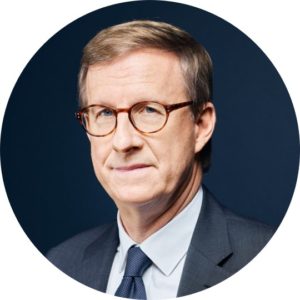 André François-Poncet