Wendel Lab
As a long-term investor, Wendel employs an investment strategy that focuses on targets of significant size. The Group aims to be a long-term partner to companies that are leaders in their respective markets. Bureau Veritas, for example, is the world's second-largest provider of inspection, certification and laboratory testing services; Stahl is a market leader in process chemicals for leather products; Allied Universal is the leading provider of security services in the North American market.
In 2013, Wendel created «Wendel Lab», an initiative spearheaded by Bernard Gautier, member of the Executive Board. Wendel Lab is part of our effort to continually improve our understanding of new business models and disruptive technologies. For Bernard Gautier, Wendel Lab is «a way to monitor trends in emerging sectors on an experimental basis and potentially to seize acquisition opportunities for our portfolio companies or for Wendel and create value.»
The modus operandi of Wendel Labs, consistent with our core investment strategy, is to invest in funds so as to source a multiplicity of investment expertise. For example, Wendel has invested first amounts in Innovation Endeavors in the United States, in Quadrille Capital in France and in Invascent in India. The amounts invested are in the €20-30 million range per fund.
«Wendel Lab enriches our expertise and our knowledge of innovatives technologies. As a long-term investor in search of both today's and tomorrow's leaders, we owe it to ourselves to understand this environment» says Bernard Gautier.
Wendel uses the Lab to support companies that are in a development phase and that are growing exponentially, including many start-ups. Yext, founded in New York in 2006 and specialized in the management of online brands, is a perfect example. Sponsored by Innovation Endeavors, in which Wendel is an investor, Yext was listed on the New York Stock Exchange 12 years after it was founded, at a time when the number of companies listed on Wall Street is only half of what it was 20 years ago.
Wendel also conceives of the Lab as a tool to help in the development of its portfolio companies. In this regard, it will be a source of expertise for the Operating Partners, a new function created in Wendel's investment team.
Stéphanie Besnier, Managing Director and member of the Investment Committee, says that Wendel Lab is «a precious tool for detecting the disruptive models that are emerging in many sectors of the economy. The Lab gives us access to several thousand start-ups which are analyzed and followed by the funds in which we invest. Thanks to Wendel Lab, we are better able to pinpoint the risks and opportunities of new business models when we analyze a proposed investment.»
In the end, Wendel Lab serves many purposes, from observing industrial and technological change to seizing investment opportunities to meeting tomorrow's business leaders. All of these are right in line with Wendel's long-term philosophy.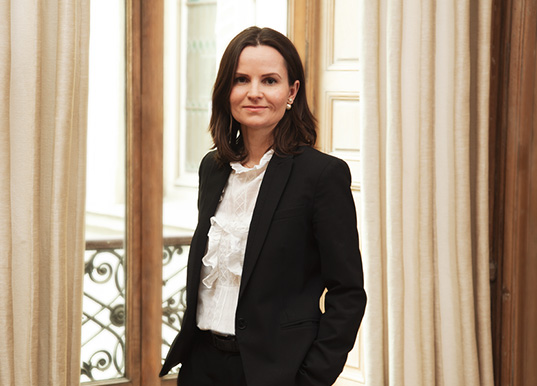 Légende de gauche à droite : Bernard Gautier, Stéphanie Besnier
Credit: Henrike Stahl